PAPERCUTS #2 - Gigs, Tours & Festivals (Paperback)
£

9.99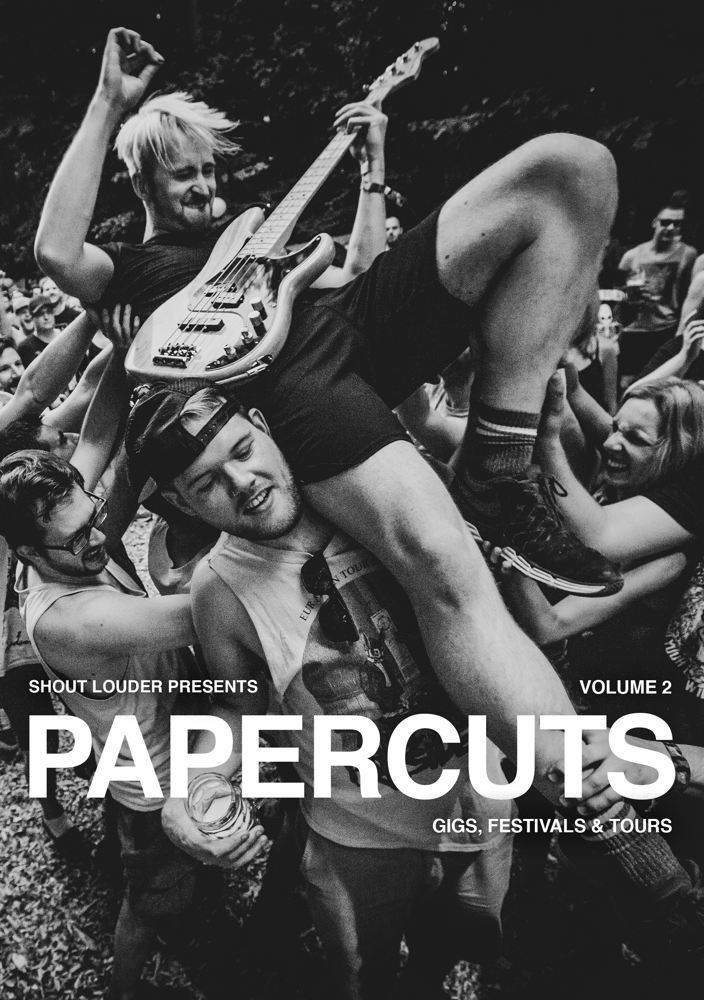 PAPERCUTS #2 is a 196-page paperback book that features writing, artwork and photography from 50 musicians and fans.
Every penny of profit is going to the MUSIC VENUE TRUST, so you're supporting independent music venues with each purchase. #SaveOurVenues
In the absence of live music this year, we wanted to celebrate the special events that we've shared in years past. We asked contributors to tell us what live music means to them, and to share stories of tours, festivals and gigs that have stuck in their memories.
The collection runs the gamut of grotty tour vans, sweaty basement shows and festival antics, with trips as far afield as Los Angeles, Tokyo and Argentina. Every story is as relatable as it is unique: a celebration of the unusual moments that always seem to happen on the road, and the ubiquitous energy that unites us at every live show, no matter the genre or the location.
Were you at the Download Riots of 2006? Have you been strip-searched by border control? Have you broken your hand in a human pyramid? Have you ruined a dentist's life? Perhaps not, but you'll feel like you have after reading this.
PAPERCUTS #2 is available as a great value bundle with PAPERCUTS #1, our first book, which we've reprinted as it sold out so fest last year!
Featuring contributions from:
Mark Bartlett (Our Lives In Cinema)
Bee Bentall
Samantha Bevington
Giles Bidder (Great Cynics)
Carl Brewster (Lesser Known Character)
Dani & Bobble (Faintest Idea)
Jimmy Carroll (LITFO)
Colin Clark (Colin's Punk Rock World)
Andy Davies (TNS Records, Knife Club)
Rob Day (Misgivings)
Gab De La Vega
Chris Fishlock
Dave Forman (Shackleford)
Kristian Garratt
Mof Gimmers (Wilderness Records)
Josh Goldman (The Raging Nathans, The Dopamines)
Nat Gyll-Murray (F. Emasculata, Swansong)
Amelia Hall
Makky Hall
Tom Houseman (Follow Your Dreams)
Nick Josten (The Bloodstrings)
Robin Leitch (Random Hand)
Chris Lowry (Warrington Ska Punk)
Lucias Malcolm (Call Me Malcolm)
Jake McAllister (Sunliner)
Katie MF
Archie Moss (Incisions, Clayface)
Paúl Rivera (La Armada)
Iain 'Tree' Robinson (Manchester Punk Fest)
Jason Small
Paul Smith (Be Sharp)
Chris Snelgrove (The Last Mile)
Matt Speer (Ear Nutrition)
James Taylor
Adam Vallely
Sarah Williams (Shout Louder)
Mikey Wong
Iain Wright (Snatch Game)
Jaap Baard (Batwolf)
Roberto Gasparro
Cris Watkins (Punk In Focus)
Dave Sloan
Jim Taylor (Bruise Control)
Mark Richards
Josh Sumner (Fair Do's)
Tim Bevington (TNSrecords)
Gary Hough
PAPERCUTS #2 is available as a great value bundle with PAPERCUTS #1, our first book, which we've reprinted as it sold out so fast last year!
ALL PROCEEDS GO TO THE MUSIC VENUE TRUST.
CHOOSE YOUR BUNDLE:
- Papercuts #2 only
- Great value bundle of Papercuts #1 & Papercuts #2 SOLD OUT